mPhase Technologies, Inc. (OTCQB: XDSL) - October 30, 2014
mPower Market Expands Across 40 States in the US! - Jumpstarter product line sees growth in retail locations
Product demand continues to increase!

CLIFTON, New Jersey, October 30, 2014 /PRNewswire/ --mPower Technologies Inc. (http://mpowertech.com/), the consumer products division of mPhase Technologies, Inc. (XDSL), announced today that retailer locations and distribution partners have expanded across the United States. The mPower emergency portable jumpstarter products are now on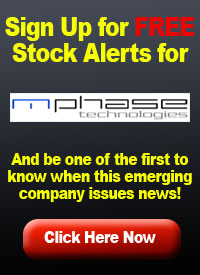 shelves in 40 states throughout the US. Over 350 locations including Ontario and Bermuda have become resellers of mPower's Jump product line.

Sales partners started with the first product in the line, the mPower Jump. The Jump does one thing and does it well. It can jumpstart a 12V vehicle, car or boat, up to 30 times on a single charge. The Mini Jump, smaller in size, targeted an additional market by offering a jumpstarter that has the added capabilities of charging electronics. The Mini can be categorized in consumer electronics. The third product, newly released, is the Jump Plus. The Plus is marketed to a high volume user such as vehicle fleets and commercial repair and combines the high volume jumpstarter with features for charging electronics and an LED flashlight with SOS flasher. The Jump Plus even runs 12V mini refrigerators and 12V pumps and inflators.


The full line of mPower products has been successfully drawing retail partnerships. Because each product in the line has different target markets, it allows interested resellers to buy in to the product or products that meet their customers' needs. Wholesale pricing is available for resellers and distributors. Distributor inquiries can be directed to dealer@mpowertech.com

To learn more about mPower's emergency portable jumpstarter product line go to the company's website www.jumpitnow.com

Now everyone can enjoy the safety and peace of mind that comes with knowing you'll never be stuck with a dead car battery, or dead cellphone ever again. Wherever you go, you're in charge.

About mPower Technologies

mPower Technologies Inc. is the wholly owned consumer products subsidiary of mPhase Technologies, Inc. More information about the company can be found at http:// www.mpowertech.com.

About mPhase Technologies, Inc. mPhase Technologies Inc. (XDSL), a 2013 Frost and Sullivan recipient for the North American Advanced Battery Technology Innovation Award. mPhase Technologies is a publicly traded company (XDSL) that is pioneering a revolutionary Smart Surface technology enabled by breakthroughs in nanotechnology, MEMS processing and microfluidics. Our Smart Surface technology has potential applications within drug delivery systems, lab-on-a-chip analytic systems, self-cleaning systems, liquid and chemical sensor systems, and filtration systems. mPhase has pioneered its first Smart Surface enabled product, the mPhase Smart NanoBattery, still in development. More information about the company can be found at http://www.mPhaseTech.com.

Forward-Looking Statements. As a cautionary note to investors, certain matters discussed in this press release may be forward-looking statements within the meaning of the Private Securities Litigation Reform Act of 1995. Such matters involve risks and uncertainties that may cause actual results to differ materially, including the following: changes in economic conditions; general competitive factors; acceptance of the Company's products in the market; the Company's success in technology and product development; the Company's ability to execute its business model and strategic plans; and all the risks and related information described from time to time in the Company's SEC filings, including the financial statements and related information contained in the Company's SEC Filing. mPhase assumes no obligation to update the information in this release.

Contact: Danielle LaSalle 973-256-3737
Email: dlasalle@mPhasetech.com
SOURCE: mPhase Technologies, Inc.



---
Disclaimer
FN Media Group LLC (FNMG) owns and operates FinancialNewsMedia.com (FNM) which is a third party publisher that disseminates electronic information through multiple online media channels. FNMG's intended purposes are to deliver market updates and news alerts issued from private and publicly trading companies as well as providing coverage and increased awareness for companies that issue press to the public via online newswires. FNMG and its affiliated companies are a news dissemination and financial marketing solutions provider and are NOT a registered broker/dealer/analyst/adviser, holds no investment licenses and may NOT sell, offer to sell or offer to buy any security. FNMG's market updates, news alerts and corporate profiles are NOT a solicitation or recommendation to buy, sell or hold securities. The material in this release is intended to be strictly informational and is NEVER to be construed or interpreted as research material. All readers are strongly urged to perform research and due diligence on their own and consult a licensed financial professional before considering any level of investing in stocks. The companies that are discussed in this release may or may not have approved the statements made in this release. Information in this release is derived from a variety of sources that may or may not include the referenced company's publicly disseminated information. The accuracy or completeness of the information is not warranted and is only as reliable as the sources from which it was obtained. While this information is believed to be reliable, such reliability cannot be guaranteed. FNMG disclaims any and all liability as to the completeness or accuracy of the information contained and any omissions of material fact in this release. This release may contain technical inaccuracies or typographical errors. It is strongly recommended that any purchase or sale decision be discussed with a financial adviser, or a broker-dealer, or a member of any financial regulatory bodies. Investment in the securities of the companies discussed in this release is highly speculative and carries a high degree of risk. FNMG is not liable for any investment decisions by its readers or subscribers. Investors are cautioned that they may lose all or a portion of their investment when investing in stocks. This release is not without bias, and is considered a conflict of interest if compensation has been received by FNMG for its dissemination. To comply with Section 17(b) of the Securities Act of 1933, FNMG shall always disclose any compensation it has received, or expects to receive in the future, for the dissemination of the information found herein on behalf of one or more of the companies mentioned in this release. For current services performed FNMG has been compensated one thousand five hundred dollars for mPhase Technologies, Inc. news coverage by the company. FNMG HOLDS NO SHARES OF mPhase Technologies, Inc.

This release contains "forward-looking statements" within the meaning of Section 27A of the Securities Act of 1933, as amended, and Section 21E the Securities Exchange Act of 1934, as amended and such forward-looking statements are made pursuant to the safe harbor provisions of the Private Securities Litigation Reform Act of 1995. "Forward-looking statements" describe future expectations, plans, results, or strategies and are generally preceded by words such as "may", "future", "plan" or "planned", "will" or "should", "expected," "anticipates", "draft", "eventually" or "projected". You are cautioned that such statements are subject to a multitude of risks and uncertainties that could cause future circumstances, events, or results to differ materially from those projected in the forward-looking statements, including the risks that actual results may differ materially from those projected in the forward-looking statements as a result of various factors, and other risks identified in a company's annual report on Form 10-K or 10-KSB and other filings made by such company with the Securities and Exchange Commission. You should consider these factors in evaluating the forward-looking statements included herein, and not place undue reliance on such statements. The forward-looking statements in this release are made as of the date hereof and FNMG undertakes no obligation to update such statements.