Breaking News - New Colombia Resources, Inc. (OTCQB: NEWC) - April 20, 2016

New Colombia Resources Announces Sannabis subsidiary Receives Purchase Order for their Medical Marijuana Products from a Pharmacy Chain


Company Scientific Advisor, Dr. Robert Melamede Ph.D. now in Dubai introducing Sannabis products to Middle Eastern Countries

Cali, Colombia, April 20, 2016 - New Colombia Resources, Inc. (OTCQB: NEWC) ("New Colombia or the Company"), a U.S. company with natural resource assets in Colombia, is pleased to announce that its subsidiary, Sannabis SAS, has received orders from an established pharmacy chain distributing natural products in southwest Colombia.

Natural Pharmacy chain Salud Semillas, a leading distributor of natural products with an established customer base in southwest Colombia, has placed an initial purchase order and developed a marketing plan to generate strong sales. In addition to having stores in upscale malls and shopping centers they also sponsor a morning health talk radio show to discuss their featured products. The show targets an area of 350,000 people and attracts 25-35,000 listeners daily from 8-8:30 am. Salud Semillas' marketing plan for Sannabis products includes radio talk shows, telemarketing group, internet sales, newspaper ads, and a direct to customer health magazine called "Buena Vida" which is distributed directly to thousands of customer's homes monthly by Salud Semillas' trained personnel in strategic neighborhoods. For more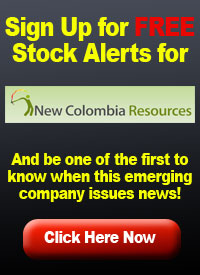 information on Salud Semillas visit www.saludsemillas.com. Their radio show is also broadcast in Spain, France, and Germany as well as online. To listen to the show tune into http://emisora.univalle.edu.co.

"After 20 years of hard work developing high quality medical marijuana products in Colombia, I'm pleased that we were finally able to establish a mainstream market, our orders are coming in droves," said Juan Pablo Guzman, Director of Sannabis in Colombia.

Dr. Robert Melamede Ph.D., scientific advisor to Sannabis and New Colombia Resources, is now in Dubai as a guest speaker at the World Congress on Oncology and Radiology held from April 18-20. He presented at the Novel Approaches to Cancer Therapeutics session. Dr. Melamede is a world renowned expert of the body's Endocannabinoid System and can easily educate world leaders on why cannabis cures and relieves. Dr. Melamede has firsthand knowledge of the effectiveness of Sannabis products in South America and is helping the company establish relationships and purchase orders with Middle Eastern countries. "The cannabis awakening is spreading across the world. The scientific knowledge of the unique healing powers of this plant are now known by more and more people around the world. The truth can no longer be suppressed by ignorance," stated Dr. Robert Melamede, Scientific Advisor to Sannabis and New Colombia Resources.

"In anticipation of having an approved export license, our approach to the international market is simple. You know cannabis cures but you don't want the hurdles of growing marijuana. Our region has grown the best medical strain for generations, we can grow and manufacture the highest quality 100% organic cannabis products for you at the most competitive cost possible. Colombian entrepreneurs are creating a new industry for the legal international medical cannabis and industrial hemp products market and we're proud to be a part of it," commented John Campo President of New Colombia Resources Inc.

To view or purchase Sannabis products visit www.sannabis.co. Follow Sannabis on Facebook for photos and testimonials at https://www.facebook.com/sannabis.cannamedicinal

New Colombia Resources, Inc.
New Colombia Resources, Inc. is focused on the acquisition and development of high-quality metallurgical coal properties and other available resources in the Republic of Colombia. They expect to have several revenue producing businesses including; metallurgical coal mining and rock quarry aggregates for domestic Colombian highway and railroad building projects. The Company owns 100% of La Tabaquera metallurgical coal mine in Colombia with an estimated 15- 17 million tonnes of reserves. They have another pending acquisition for 390 ha and a solicitation contract for 184 ha metallurgical coal concession. New Colombia Resources also holds a significant position in Sannabis SAS which legally produces medical marijuana products in the Republic of Colombia, visit www.sannabis.co. For more information on the Company visit www.newcolombiaresources.com.

Forward Looking Statements
Forward Looking Statements; This Press Release includes forward-looking statements within the meaning of Section 27A of the Securities Act of 1933 and Section 21E of the Securities Act of 1934. A statement containing works such as "anticipate," "seek," intend," "believe," "plan," "estimate," "expect," "project," "plan," or similar phrases may be deemed "forward-looking statements" within the meaning of the Private Securities Litigation Reform Act of 1995. Some or all of the events or results anticipated by these forward-looking statements might not occur. Factors that could cause or contribute to such differences include financing, the future U.S. and global economies, the impact of competition, and the Company's reliance on existing regulations. New Colombia Resources, Inc. does not undertake any duty nor does it intend to update the results of these forward-looking statements.

Company/Media Contact:
New Colombia Resources, Inc.
John Campo
President/Chairman
(1)-410-236-8200 USA
jcampo@newcolombiaresources.com

Sannabis SAS
Cali, Colombia
www.sannabis.co

SOURCE: New Colombia Resources, Inc.
-----------------------------------
About NEWC

New Colombia Resources Inc. ("New Colombia" or the "Company") is a publicly traded resource company listed on the OTC under the symbol "NEWC". The Company is focused on the acquisition and development of high quality metallurgical coal properties in Colombia, considered one of the most attractive emerging markets. With an estimated US$378 billion in gross domestic product in 2013, it became the third largest economy in Latin America and is growing 4% to 6% per year. Colombia has the largest coal reserves in Latin America and is the fourth largest coal producer in the world. Total coal production decreased by 4% in 2013 to 85.5 million tonnes. Coal producers aim to increase coal output in 2015. Colombia privatized its coal sector in 2004 and is committed to investing in infrastructure to support increased mining.

We are focusing on our La Tabaquera coal and rock project (the "Project") located in the Municipality of Guaduas, approximately 100 kilometers northwest of Bogota. This Project's haul roads are easily accessible either by National Highway I-50 or the new Ruta del Sol. The property is within 50kM of the Magdalena River, providing easy transport to terminals in Barranquilla, Santa Marta or Cartagena for export. The Magdalena River is being dredged to allow cargo from La Dorada which in close proximity to their mine.

Recently we purchased a rock crushing plant with processing capacity of over 100 m3/hour of aggregates which is expected to be operating in by August 2015. Demand is strong for building material in Colombia since many illegal mines have been closed as new construction and infrastructure projects come online. Construction of the final sector of the Ruta del Sol road project was approved to begin. It will consist of tunnels and bridges within 5 kilometers or our coal and rock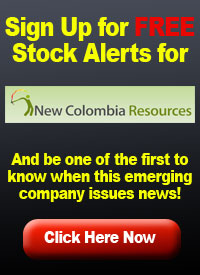 mine. This allows us to supply road builders with aggregates, and then use these roads to move our coal to export terminals. We intend to fund our coal operations with the cash flow generated from the sale of processed aggregates.

An "Estimate of Probable Reserves and Grantable Potential of Coal at La Tabaquera Mine" report was prepared on behalf of New Colombia in September 2011. The report estimated reserves for La Tabaquera Project of 13,073,935 cubic meters for a total of 16,996,116 tonnes of bituminous coal (non JORC compliant), with 70% being metallurgical hard coking coal and 30% thermal coal.

Based on the high quality of our coal, we expect to sell at a premium to other domestic coals. We believe our mines have Blue Gem coal, only found along the Kentucky Tennessee border in the U.S. and Colombia. This coal is unique because of its low ash and high carbon content. It is in high demand for the silicon and silicon based alloy market. Beginning in 2015, New Colombia will concentrate tunnel mining its hard coking coal seams first. The Company expects to mine 20,000 tonnes of hard coking coal per month.

We own the mining title and land where we will commence operations. Our Mining Plan of Operations (PTO) was approved in December 2013 by the Agencia Nacional de Mineria (ANM). In April 2013 we applied for an environmental license which we expect to be issued soon.

New Colombia also has renewable resource projects in Colombia they are developing and plan to spin off as a dividend to shareholders.

Management and Directors

John Campo, President, Chairman, 43, has been involved with public companies for over 20 years. He began his career as a registered representative in 1992 with a boutique firm in Baltimore, Maryland. From 2001 to 2008, he was President of Elite Equity Marketing, a public relations firm catering to emerging growth companies. Later he formed Wall Street International to focus on creating awareness for international companies trading in the United States. In 2011 he acquired VSUS Technologies, which then acquired concession contract ILE-09551 and became New Colombia Resources, Inc. Mr. Campo is a Colombian-American residing in Sunny Isles Beach, FL while working in Colombia.

Erasmo Almanza, 71, Director, brings over 40 years of experience in the oil and gas industries in Colombia and the United States. A petroleum engineer by trade, he is currently General Manager of Cia Minera San Jose Ltda, a subsidiary of New Colombia Resources, Inc. Prior to that Mr. Almanza held several management positions within the oil and coal industry including Ingepetrol, BAROID International Co. and Core Laboratories International in Houston, Texas. Mr. Almanza earned a Bachelor Degree in Petroleum Engineering from the Universidad America in Bogota.

Miguel Centanaro, 51, V.P Operations, was a consultant to Latin Coal Mining from 1994 to 2004. Mr. Centanaro has been a candidate for the Senate of the Republic of Colombia and has held several positions within the Colombian Senate. He holds a business administration degree from the University of Cartagena and a Fellow Doctorate in Business Administration from The Edinburg School of Business, as well as specialties in marketing, environmental contamination, financial evaluation of projects, strategic management.

Fabio Villamil, Logistics Advisor, is currently President and Director of Incoplan S.A., a top engineering firm based in Bogota, Colombia that is a consultant to the largest infrastructure projects in Colombia, including rail, road, and river. He is an expert in environmental issues of infrastructure and mining projects in Colombia and has been a consultant to the Ministry of Transportation. Mr. Villamil holds a civil engineering degree from La Universidad Catolica de Colombia along with a specialty in ground transportation. He also holds a doctorate in the Optimization and exploitation of transportation systems from La Universidad Politecnica de Valencia, Spain. Mr. Villamil has advised the company on matters related to logistics and infrastructure. Incoplan S.A. developed the baseline for the environmental impact study submitted to the CAR.

Jose A. Ramirez, 34, Director, is a financial controller for several companies in Miami, FL. He advises the company on accounting issues in conjunction with their accounting firm in Houston, TX.

Investor Info

New Colombia Resources, Inc. is focused on the acquisition and development of high-quality metallurgical coal properties in the Republic of Colombia. We own 100% of La Tabaquera coal mine in Guaduas, Colombia with an estimated 15- 17 MM tonnes of reserves, 70% metallurgical and 30% thermal coal. SGS Colombia S.A. completed a drilling program for an N.I. 43-101 Technical Report; once financing is secured we will implement the program. Our Mining Plan of Operations (PTO) was approved on December 23, 2013. In April 2014 we applied for an environmental license. We expect to begin mining operation in August 2015.

New Colombia Resources also has a medical cannabis business in Colombia operating as Sannabis SAS. Sannabis is a partnership between New Colombia Resources and others including members of the Nasa Indian Nation of Colombia. Medicines are legally produced on the Indian reservation and distributed throughout Colombia. Sannabis enjoys first mover advantage in Colombia and aims to provide the best medicine with scientific evidence available in Colombia and the World.
---
Disclaimer
FN Media Group LLC (FNMG) is a third party publisher and news dissemination service provider, which disseminates electronic information through multiple online media channels. FNMG is NOT affiliated in any manner with any company mentioned herein. FNMG and its affiliated companies are a news dissemination solutions provider and are NOT a registered broker/dealer/analyst/adviser, holds no investment licenses and may NOT sell, offer to sell or offer to buy any security. FNMG's market updates, news alerts and corporate profiles are NOT a solicitation or recommendation to buy, sell or hold securities. The material in this release is intended to be strictly informational and is NEVER to be construed or interpreted as research material. All readers are strongly urged to perform research and due diligence on their own and consult a licensed financial professional before considering any level of investing in stocks. All material included herein is republished content and details which were previously disseminated by the companies mentioned in this release. Investment in the securities of the companies discussed in this release is highly speculative and carries a high degree of risk. FNMG is not liable for any investment decisions by its readers or subscribers. Investors are cautioned that they may lose all or a portion of their investment when investing in stocks. For current services performed FNMG was compensated one thousand seven hundred dollars for this New Colombia Resources, Inc. news coverage. FNMG HOLDS NO SHARES OF New Colombia Resources, Inc.

This release contains "forward-looking statements" within the meaning of Section 27A of the Securities Act of 1933, as amended, and Section 21E the Securities Exchange Act of 1934, as amended and such forward-looking statements are made pursuant to the safe harbor provisions of the Private Securities Litigation Reform Act of 1995. "Forward-looking statements" describe future expectations, plans, results, or strategies and are generally preceded by words such as "may", "future", "plan" or "planned", "will" or "should", "expected," "anticipates", "draft", "eventually" or "projected". You are cautioned that such statements are subject to a multitude of risks and uncertainties that could cause future circumstances, events, or results to differ materially from those projected in the forward-looking statements, including the risks that actual results may differ materially from those projected in the forward-looking statements as a result of various factors, and other risks identified in a company's annual report on Form 10-K or 10-KSB and other filings made by such company with the Securities and Exchange Commission. You should consider these factors in evaluating the forward-looking statements included herein, and not place undue reliance on such statements. The forward-looking statements in this release are made as of the date hereof and FNMG undertakes no obligation to update such statements.