Breaking News - New Colombia Resources, Inc. (OTCQB: NEWC) - November 5, 2014
New Colombia Resources Inc. Plans Spin Off of its Colombia Medical Marijuana Products Company
The Company plans to issue shares of Sannabis S.A.S. as a dividend to Shareholders.
Bogotá , Colombia November 5, 2014 -- New Colombia Resources, Inc. (OTCQB: NEWC) ("New Colombia or the Company"), a U.S. company with coal and other resource assets in Colombia, is pleased to announce plans to spin out its Sannabis S.A.S medical hemp based products company and create an independent U.S. traded reporting publicly traded company.

John Campo, President stated "Our management team is focused on our core business of developing company coal reserves and industrial aggregate operations. By allowing Sannabis SAS to become an independent public company it will be able to develop its own medical based management team. Additionally Sannabis will have one mission the development of its innovative medical products based on scientific research using unique strains of Cannabis manufactured on the TOEZ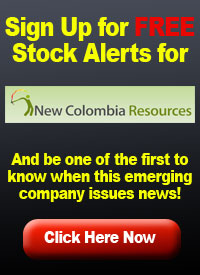 Indian Reservation in Colombia.

New Colombia Resources, Inc. operations are based on the acquisition and development of high-quality metallurgical coal properties and other available resources in the Republic of Colombia. New Colombia owns 100% of La Tabaquera metallurgical coal mine in Colombia with an estimated 15- 17 million metric tons of reserves as well as a vast supply of industrial aggregates required in road building and construction. Upon property evaluation and finalization of funding, the company plans two mining property acquisitions that include a 1500 ha and 390 ha metallurgical coal concession that have the potential to more than triple company coal assets.

After the spinoff Sannabis S.A.S. will operate as an independent company and develop its own medical research staff and funding to further the commercialization of its products. Sannabis S.A.S. aims to become the first company to legally import hemp and medical marijuana products to the U.S. from Colombia. Operations will include patent applications, obtaining medical approvals, and further research and product development. Sannabis SAS believes that the specific strain of hemp being produced on the TOEZ Indisan reservation may creates a unique medical opportunity for many people who may find benefit from various hemp based product derivates.

For more information on the Company visit www.newcolombiaresources.com.

Forward Looking Statements

Forward Looking Statements; This Press Release includes forward-looking statements within the meaning of Section 27A of the Securities Act of 1933 and Section 21E of the Securities Act of 1934. A statement containing works such as "anticipate," "seek," intend," "believe," "plan," "estimate," "expect," "project," "plan," or similar phrases may be deemed "forward-looking statements" within the meaning of the Private Securities Litigation Reform Act of 1995. Some or all of the events or results anticipated by these forward-looking statements may not occur. Factors that could cause or contribute to such differences include financing, the future U.S. and global economies, the impact of competition, and the Company's reliance on existing regulations. New Colombia Resources, Inc. does not undertake any duty nor does it intend to update the results of these forward-looking statements.

Company Contact:
New Colombia Resources, Inc.
John Campo
President/Chairman
(1)-410-236-8200 USA
jcampo@newcolombiaresources.com

New Colombia Resources, Inc., mining subsidiary
Cia. Minera San José Ltda.
Kra. 3 # 2-52
Guaduas, Cundinamarca
Colombia
(57) (1) 846-6579
www.newcolombiaresources.com

SOURCE: New Colombia Resources, Inc.

---
Disclaimer
FN Media Group LLC (FNMG) is a third party publisher and news dissemination service provider, which disseminates electronic information through multiple online media channels. FNMG is NOT affiliated in any manner with any company mentioned herein. FNMG and its affiliated companies are a news dissemination solutions provider and are NOT a registered broker/dealer/analyst/adviser, holds no investment licenses and may NOT sell, offer to sell or offer to buy any security. FNMG's market updates, news alerts and corporate profiles are NOT a solicitation or recommendation to buy, sell or hold securities. The material in this release is intended to be strictly informational and is NEVER to be construed or interpreted as research material. All readers are strongly urged to perform research and due diligence on their own and consult a licensed financial professional before considering any level of investing in stocks. All material included herein is republished content and details which were previously disseminated by the companies mentioned in this release. Investment in the securities of the companies discussed in this release is highly speculative and carries a high degree of risk. FNMG is not liable for any investment decisions by its readers or subscribers. Investors are cautioned that they may lose all or a portion of their investment when investing in stocks. For current services performed FNMG was not compensated for this New Colombia Resources, Inc. news coverage but expects to be compensated in the future which will be fully disclosed at that time. FNMG HOLDS NO SHARES OF New Colombia Resources, Inc.

This release contains "forward-looking statements" within the meaning of Section 27A of the Securities Act of 1933, as amended, and Section 21E the Securities Exchange Act of 1934, as amended and such forward-looking statements are made pursuant to the safe harbor provisions of the Private Securities Litigation Reform Act of 1995. "Forward-looking statements" describe future expectations, plans, results, or strategies and are generally preceded by words such as "may", "future", "plan" or "planned", "will" or "should", "expected," "anticipates", "draft", "eventually" or "projected". You are cautioned that such statements are subject to a multitude of risks and uncertainties that could cause future circumstances, events, or results to differ materially from those projected in the forward-looking statements, including the risks that actual results may differ materially from those projected in the forward-looking statements as a result of various factors, and other risks identified in a company's annual report on Form 10-K or 10-KSB and other filings made by such company with the Securities and Exchange Commission. You should consider these factors in evaluating the forward-looking statements included herein, and not place undue reliance on such statements. The forward-looking statements in this release are made as of the date hereof and FNMG undertakes no obligation to update such statements.