Breaking News - New Colombia Resources, Inc. (OTCQB: NEWC) - June 3, 2014
New Colombia Resources Inc Announces Results of a Market Survey of Hemp Based Products for the U.S. and Latin American Markets
Sunny Isles Beach, FL June 3, 2014 -- New Colombia Resources, Inc. (OTCQB: NEWC) ("New Colombia or the Company"), a U.S. company with coal and other resource assets in Colombia, is pleased to announce results of a market study by leading Hispanic infomercial producer, Doral Studios, of hemp based products for the U.S. Hispanic and Latin American markets.

Doral Studios Inc. d/b/a RC Television Production has produced English and Spanish speaking infomercials for over 15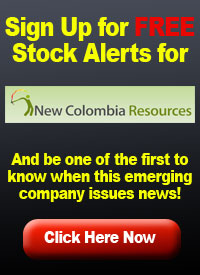 years. Their market research team did a survey to gauge the interest between in a pain or beauty hemp based product for the Hispanic market. The results were very favorable for these innovative new products. The following are basic conclusions of the consumer preference analysis done by Doral Studios Inc. in reference to the products.

The population subject of the study included male and female professionals, makeup artists, personal trainers, corporate executives, students, housewives, and others. The age brackets were calculated every ten years, except for the first segment that was from age 25 to 40.

Questions during the Consumer Preference Segment:

Would you buy a beauty enhancing product? The product would help with stretch marks, scars, crow's feet, wrinkles, etc, leaving a clear and soft skin with a 10 year younger look.

Would you buy a pain reducing product? The product would act on rheumatism, arthritis, and muscle pain due to exercise, accidents or any kind of pain induced by illness.

After the selection was made, the hemp or cannabis content of the product was disclosed and the reinforcement of the decision was made as to the consumer preference.

RESULTS

The participants that selected the pain reducing cream reinforced their decision to purchase the product in 99% of the cases. Only one rejected the use of the product in either cream due to hemp or cannabis content.

For the participants that selected the Beauty cream, only 2 out of 6 would reconsider changing their decision and purchase the pain reducing cream once they were informed it was hemp or cannabis based. These participants disclosed that that they would prefer to use Doctor indicated alternatives in reference to pain reducing options.

Age 25 -40 41- 50 51- 60 61 +
Pain Reducing Cream 52% 13% 17% 17%
Beauty Enhancing Cream 29% 58% 0% 14%

CONCLUSION

Based on the data results of the overall survey, RC Television Productions considers the direction for the placement of the product is the PAIN REDUCING CREAM. The enhancement of the product with its hemp content had a very positive impact on consumers; especially due to the wide spread knowledge of the medicinal uses of hemp and cannabis. This represents a very powerful marketing tool, with consumer awareness and a tremendous marketing advantage at the present time. Timing is of the essence to convert the brand and the product into a market leader.
New Colombia Resources will work with their scientific advisor, Dr. Robert Melamede PhD, President Emeritus of Cannabis Science, Inc. (OTC: CBIS) to produce an effective product to brand and target to the Latin American and U.S. market. "We look forward to educating people on the many medicinal benefits of cannabis and hemp through infomercials, "stated John Campo, President of New Colombia Resources, Inc.

New Colombia is putting together a business plan for investors to manufacture the products, produce the infomercial, and purchase airtime throughout the U.S. and Latin America. For more information on RC Television Productions visit www.rctelevision.com .

About New Colombia Resources, Inc.

New Colombia Resources, Inc. is focused on the acquisition and development of high-quality metallurgical coal properties and other available resources in the Republic of Colombia. They expect to have several revenue producing businesses including; metallurgical coal mining, African palm distribution, and traditional and organic coffees. They own 100% of La Tabaquera metallurgical coal mine in Colombia with an estimated 15- 17 MM tonnes of reserves. They have another pending acquisition for 390 ha and a solicitation contract for 184 ha metallurgical coal concession. In May 2014 they are planting 3000 African palm trees to use as a showcase for a seedling and fertilizer distribution business. Once the necessary financing is obtained, the Company plans to have additional revenue producing business units in Colombia: coal mining, coking oven facilities, docks, river, and rail transportation to export terminals in Colombia. For more information on the Company visit www.newcolombiaresources.com.

Transportation, Logistics and Other Information

New Colombia Resources intends to sell their coal at the mine's gate unless they enter into off-take agreements. Upon proper financing, the Company plans to build or acquire river or rail loading facilities on the Magdalena River close to their mines. The coal will be trucked to these distribution centers, and then barged via the Magdalena River or by rail to terminals in Barranquilla, Santa Marta, or Cartagena for export. Initially they will use existing logistics providers while their transportation projects are being developed. After the rail projects and the "Road to the Sun" project are completed, New Colombia Resources will have one of a few metallurgical coal mines in the World with river, rail, and road access to coal export terminals on both the Atlantic and Pacific Oceans.

Forward Looking Statements

Forward Looking Statements; This Press Release includes forward-looking statements within the meaning of Section 27A of the Securities Act of 1933 and Section 21E of the Securities Act of 1934. A statement containing works such as "anticipate," "seek," intend," "believe," "plan," "estimate," "expect," "project," "plan," or similar phrases may be deemed "forward-looking statements" within the meaning of the Private Securities Litigation Reform Act of 1995. Some or all of the events or results anticipated by these forward-looking statements may not occur. Factors that could cause or contribute to such differences include financing, the future U.S. and global economies, the impact of competition, and the Company's reliance on existing regulations. New Colombia Resources, Inc. does not undertake any duty nor does it intend to update the results of these forward-looking statements.

Company Contact:
New Colombia Resources, Inc.
John Campo
President/Chairman
(1)-410-236-8200 USA
jcampo@newcolombiaresources.com

New Colombia Resources, Inc., mining subsidiary
Cia. Minera San Josť Ltda.
Kra. 3 # 2-52
Guaduas, Cundinamarca
Colombia
(57) (1) 846-6579
www.newcolombiaresources.com

SOURCE: New Colombia Resources, Inc.

---
Disclaimer
FN Media Group LLC (FNMG) is a third party publisher and news dissemination service provider, which disseminates electronic information through multiple online media channels. FNMG is NOT affiliated in any manner with any company mentioned herein. FNMG and its affiliated companies are a news dissemination solutions provider and are NOT a registered broker/dealer/analyst/adviser, holds no investment licenses and may NOT sell, offer to sell or offer to buy any security. FNMG's market updates, news alerts and corporate profiles are NOT a solicitation or recommendation to buy, sell or hold securities. The material in this release is intended to be strictly informational and is NEVER to be construed or interpreted as research material. All readers are strongly urged to perform research and due diligence on their own and consult a licensed financial professional before considering any level of investing in stocks. All material included herein is republished content and details which were previously disseminated by the companies mentioned in this release. Investment in the securities of the companies discussed in this release is highly speculative and carries a high degree of risk. FNMG is not liable for any investment decisions by its readers or subscribers. Investors are cautioned that they may lose all or a portion of their investment when investing in stocks. For current services performed FNMG was not compensated for this New Colombia Resources, Inc. news coverage but expects to be compensated in the future which will be fully disclosed at that time. FNMG HOLDS NO SHARES OF New Colombia Resources, Inc.

This release contains "forward-looking statements" within the meaning of Section 27A of the Securities Act of 1933, as amended, and Section 21E the Securities Exchange Act of 1934, as amended and such forward-looking statements are made pursuant to the safe harbor provisions of the Private Securities Litigation Reform Act of 1995. "Forward-looking statements" describe future expectations, plans, results, or strategies and are generally preceded by words such as "may", "future", "plan" or "planned", "will" or "should", "expected," "anticipates", "draft", "eventually" or "projected". You are cautioned that such statements are subject to a multitude of risks and uncertainties that could cause future circumstances, events, or results to differ materially from those projected in the forward-looking statements, including the risks that actual results may differ materially from those projected in the forward-looking statements as a result of various factors, and other risks identified in a company's annual report on Form 10-K or 10-KSB and other filings made by such company with the Securities and Exchange Commission. You should consider these factors in evaluating the forward-looking statements included herein, and not place undue reliance on such statements. The forward-looking statements in this release are made as of the date hereof and FNMG undertakes no obligation to update such statements.