Breaking News Coverage for DNA Precious Metals, Inc., (OTCQB: DNAP) - December 12, 2013
Last Trade: $
Change:
Open: $
High: $
Low: $
Volume:
Company Snapshot
DNA Precious Metals Inc.

9125 rue Pascal Gagnon
Suite 204
Saint Leonard, QC HIP IZ4
Canada

www.dnapreciousmetals.com

Officers:
Ronald Mann CEO
Tony Giuliano CFO
Tel: (514)852-2111

Sector: Mining
Ticker Symbol: DNAP
Exchange: OTCQB
Shares Outstanding: 90,028,000

52 Week Low: $0.27
52 Week High: $0.66

Investors Links
Corporate Video:
DNAP SMS Alerts
Never miss news alerts from
DNAP -

Text PRESS to 545454 for
Free News Alerts

DNA Precious Metals Inc. Announces CEO Feature Interview by CEORoadshow.com And Upgraded Research Report
As a result, the report further indicates, "DNAP common stock is valued at $1.30 per share, 188.1% higher than the current stock price of $0.45 per share."
Montreal, Canada – December 12, 2013. DNA Precious Metals Inc. ("DNA" or "the Company") (OTCQB: DNAP) today announced that www.CEORoadshow.com has conducted an audio interview with Ronald Mann, Chief Executive Officer of DNA Precious Metals Inc. The interview includes an overview of DNAP's business and its forward-looking strategy and will be available on YouTube, the Company's website and CEORoadshow.com.
The interview can be found on the CEORoadshow.com's website at the following link:

http://www.ceoroadshow.com/dna-precious-metals/dnap-videos/1623-ceoroadshow-executive-interview-dna-precious-metals-otcqb-dnap

The Company further announced an updated 33 page research report on DNA Precious Metals Inc. highlighting a significant increase in market value from the initial report published on September 27th, 2013 by Grass Roots Research and Distribution.

The November 27, 2013 report, references, among other things, "DNA Precious Metal is aggressively looking for new assets to expand and become a mid-sized precious metals mining producer. Management's foresight has enabled DNAP to position itself as an innovator in the mining industry by extracting precious metals from tailings. The Company has a strong record of securing financing, required permits and authorizations to conduct operations. Quality assets, excellent cash position, superior business model, experienced management and attractive gold market dynamics are all contributors to future success. Our conservative estimates forecast revenues to grow from $4.9 million in FYE December 31, 2014 to approximately $40.4 million by FYE 2018. Based on these projections and provided that the Company raises $12.0 million in capital, in the near term the Cohen Target Price is 188.1% higher than the current price." As a result, the report further indicates, "DNAP common stock is valued at $1.30 per share, 188.1% higher than the current stock price of $0.45 per share."

The Cohen Price Index Target is calculated using 2014 Price-to-Earnings ratio (P/E), Cohen Price-to-Capital Employed ratio (P/CE), Cohen Discounted Cash Flow (DCF) method and Cohen Price Performance Index. The P/E and P/CE are based on market multiples and representative of the broader industry in which the Company operates. The Cohen Price Performance Index is a representative of the post coverage performance of all stocks covered by us. The last component of the Cohen Price Index Target is using the long-term DCF valuation approach.

The report can be accessed at: http://www.dnapreciousmetals.com/reports.

The updated report notes the potential impact of the agreement to acquire the past producer Montauban Mine, on 5 contiguous claims ("Mineral Claims") consisting of a mining lease and a mining concession totalizing an approximate surface of 76.84 hectares which DNA acquired through a signed binding agreement. These 5 mining claims are contingent to DNA's mining claims covering an area of approximately 340 hectares on the Montauban Mine Property. The newly acquired past producer Montauban Mine has reported past production of over 160,000 tons of zinc/lead, 4,300,000 ounces of silver and over 130,000 ounces of gold. The Mine has three shafts, two declines, extensive underground workings and includes the "Golden Goose" north strike area of the Montauban mineralized near surface ore belt, one of the many significant highlights of the acquired property. This mineralized ore block, with Historical Resources non 43-101, Mirabel Resources, consists of approximately 693, 590 metric tons grading an average 3.44 g/t Au and 14.32 g/t Ag.

"We were delighted to receive an update research report recognizing the potential positive impact of the agreement to acquire the past producer Montauban Mine," said Mr. Ronald Mann, CEO." The updated price target is $1.30 per share. "

Grass Roots Research and Distribution
Led by Paul Cohen, Grass Roots Research and Distribution is one of Wall Street's leading Independent micro-cap research firm, concentrating on emerging companies with strong management teams focused on shareholder value and sustainable competitive advantage. As founder of Bear Stearns Western Regional Offices, Paul Cohen was one of the original 12 Dirty Dozen analysts, regarded by many to be the top 12 security analysts in the nation. Mr. Cohen was also the West Coast Senior Vice President of CBWL-Hayden Stone-American Express. Mr. Cohen's partners were Sanford I. Weill (past Chairman and CEO of Citigroup and past Chairman of Solomon Smith Barney) and Arthur Levitt (past Chairman of the SEC).

Cohen Independent Research Group includes nine PhDs, two MDs, six CFAs, three with CPAs and 21 analysts covering most industries. The backbone of the fundamental research targeted at stock investment includes investigative research into significant corporate events, thorough review of SEC filings, in depth financial analysis, valuations, and management profiles. For more information visit www.grassrootsrd.com.

About DNA Precious Metals, Inc.
DNA Precious Metals, Inc. is focused on near term production of the Montauban tailings mine in the Province of Quebec, Canada with an aggressive search for economic production assets. The company trades on the OTCQB market in the United States under the stock symbol DNAP. For more information, please go to www.DNAPreciousMetals.com.

On behalf of the Board
Ronald K. Mann, CEO

Forward Looking Disclaimer
This release contains forward-looking statements that involve risks and uncertainties. Readers are referred to the Securities and Exchange Commission filings filed by the Company on EDGAR at www.sec.gov/edgar.shtml, specifically the most recent reports which identify important risk factors that could cause actual results to differ from those contained in the forward-looking statements. The Company undertakes no obligation to review or confirm analysts' expectations or estimates or to publicly release any revisions to any forward-looking statements. The information contained in this press release should not be construed as any indication of the Company's future stock price, its revenues or results of operations.

CONTACT INFORMATION
Ronald Mann, CEO
DNA Precious Metals Inc.
514-852-2111
ronald.mann1@dnapreciousmetals.com
Twitter: www.twitter.com/dnametals
Facebook: www.facebook.com/dnametals

SOURCE: DNA Precious Metals, Inc.


About DNA Precious Metals, Inc., (OTCQB: DNAP)
Company Overview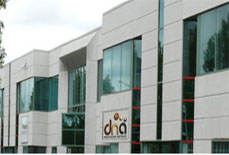 DNA Precious Metals Inc. (DNAP) is quoted on the Over The Counter Bulletin Board ("OTCQB) in the United States. DNA is focused on near term production of the Montauban gold silver tailings mine in the Province of Quebec, Canada. Principal operations office is in Montreal. The Company has an aggressive search for acquisition targets internationally with a mission to create a medium sized precious metals mining producer.

In June of 2011, DNA Precious Metals Inc. completed the first acquisition of its Montauban exploration properties located in the Portneuf County, Quebec, Canada, based on a report estimating an historical resource of 47,198 ounces of gold and 480,998 ounces of silver on the Montauban Project. The resource totals are in reference to a portion of the gold bearing surface ore over a distance of approximately 600 meters in length.

In addition, Engineering Geologist Yves Gagnon's January 2011 National Instrument 43-101 Technical Report on the Resource Evaluation of the Montauban Tailings states the actual market value of the Montauban Tailings to be at least 32 million dollars with the potential of increasing this value with the mica (phlogopite). This report was based on the total measured resources of approximately 428,000 metric tonnes of tailings. Various official government documents estimates the total amount of tailings located on the Montauban Mine Property to be more than 2 million metric tonnes. Mr. Yves Gagnon has worked as a Geological Engineer for 35 years and he fulfills the requirements to be a "qualified person" as required by rule 43-101.

Since the acquisition of the Montauban Mine Property, DNA Precious Metals Inc. has worked closely with the Quebec Provincial Government and most importantly the local Municipality. As a result, a protocol agreement was signed between DNA Precious Metals Inc. and the Municipality of Notre-Dame de Montauban after the Municipality's Council voted unanimously in favor of the Montauban Mining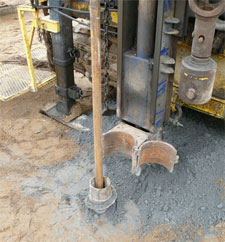 Project presented to them by DNA Precious Metals Inc. In September of 2012, DNA Precious Metals Inc. received the Certificate of Authorization issued by the MDDEP (Ministère du Développement durable, de l'Environnement et des parc) to process the mining residues, subject to conditions, further permits and approvals.

As of March 2013 DNA Precious Metals Inc. has the final plans of the mill for the extraction process of the industrial and precious metals. Certain processing equipment has been purchased by the Company and is being stored nearby the mining property. In addition, the Company has completed construction of all access roads to and from the new milling facility. The newly erected milling facility consists of an industrial steel structure building totaling 16,000 square feet. The power line source to the milling facility totaling 1.3 kilometers has also been completed.

DNA Precious Metals Inc. has rapidly evolved towards becoming a production company since the completion of the Montauban Mine acquisition in June of 2011. Contingent upon adequate financing, the Company is focused on being in production of the recuperation of industrial and precious metals from the mining residues in Q4 2013. DNA Precious Metals Inc. has Provincial and Municipal Government support for the Montauban project especially since the Company is restoring an environmental area with mining residues. The project will enable DNA Precious Metals Inc. to generate attractive cash flow with low initial capital cost required to start the project.


Quebec has grown to become one of the largest mining jurisdictions in the world through the abundance of world-class mining deposits and through the ingenuity and perseverance of those engaged in exploring, developing, extracting and processing minerals. DNA Precious Metals Inc. will be at the forefront with the implementation of good practices and respect for the environment throughout all mining operations. Most importantly, the Company will encourage responsible exploration and operate in a safe and environmentally protective manner.

DNA management, directors and independent mining consultants bring a wealth of business, financial and mining experience to the Montauban precious metals tailings mine project.


National Instrument 43-101 ("NI 43-101″)

The purpose of this report is to provide a complete and independent resource report conforming to NI 43-101 standards and Form 43-101F. The report was to determine the amount and characteristics of tailing material available on the Montauban Property, and to qualify those tailings as mineral resources.

This report is based on internal company technical reports, published government reports, company letters and memoranda, and public information as listed in the "References" section and Appendix I at the conclusion of this report.

The data from the two drilling campaigns performed on the Montauban Tailings were compiled and served as the basis for the resource estimate. Several sections from reports authored by other consultants have been quoted in this report, and are so indicated in the appropriate sections.
Recent DNA Precious Metals, Inc., (OTCQB: DNAP) News Releases
DNA Precious Metals Montauban Mill Electrical Installation

DNA Precious Metals Inc Acquires the Complete Geological Data Resource on the Historic Montauban Mine

DNA Precious Metals CEO Ronald Mann Interviewed on MoneyTV; Discussed Company Strategy and Upcoming Plans

DNA Precious Metals Inc. to be Presenting at the 2013 Silver Summit Conference Today

DNA Precious Metals Inc. Announces it has Signed a Binding Agreement to Acquire Additional Mining Interest on the Montauban Mine Property

DNA Precious Metals Inc. Submits Restoration Plan with the Quebec Ministry of Natural Resources

MoneyTV with Donald Baillargeon, Oct 11

Grass Roots Research and Distribution Inc. Releases Research Report on DNA Precious Metals Inc.

DNA Precious Metals, Inc. Announces Launch of Corporate Video

DNA Precious Metals, Inc. Announces New Directors

Ronald Mann, CEO of DNA Precious Metals, Inc., is Featured in a New Audio Interview at SmallCapVoice.com

Ronald Mann, CEO of DNA Precious Metals Inc., Invited by Eric Dubin as Special Guest Host on Silver Doctors Metals and Markets





FN Media Group LLC (FNMG) owns and operates FinancialNewsMedia.com (FNM) is a third party publishing provider which disseminates electronic information through multiple online media channels. FNMG's intended purposes are to deliver market updates and news alerts issued from private and publicly trading companies as well as providing coverage and increased awareness for companies that issue press to the public via online newswires. FNMG and its affiliated companies are a news dissemination and financial marketing solutions provider and are NOT a registered broker/dealer/analyst/adviser, holds no investment licenses and may NOT sell, offer to sell or offer to buy any security. FNMG's market updates, news alerts and corporate profiles are NOT a solicitation or recommendation to buy, sell or hold securities. An offer to buy or sell can be made only with accompanying disclosure documents from the company offering or selling securities and only in the states and provinces for which they are approved. The material in this release is intended to be strictly informational and is NEVER to be construed or interpreted as research material. All readers are strongly urged to perform research and due diligence on their own and consult a licensed financial professional before considering any level of investing in stocks. The companies that are discussed in this release may or may not have approved the statements made in this release. Information in this release is derived from a variety of sources that may or may not include the referenced company's publicly disseminated information. The accuracy or completeness of the information is not warranted and is only as reliable as the sources from which it was obtained. While this information is believed to be reliable, such reliability cannot be guaranteed. FNMG disclaims any and all liability as to the completeness or accuracy of the information contained and any omissions of material fact in this release. This release may contain technical inaccuracies or typographical errors. It is strongly recommended that any purchase or sale decision be discussed with a financial adviser, or a broker-dealer, or a member of any financial regulatory bodies. Investment in the securities of the companies discussed in this release is highly speculative and carries a high degree of risk. FNMG is not liable for any investment decisions by its readers or subscribers. Investors are cautioned that they may lose all or a portion of their investment when investing in stocks.

This release is not without bias, and is considered a conflict of interest if compensation has been received by FNMG for its dissemination. To comply with Section 17(b) of the Securities Act of 1933, FNMG shall always disclose any compensation it has received, or expects to receive in the future, for the dissemination of the information found herein on behalf of one or more of the companies mentioned in this release. For current services performed FNMG has been compensated fifteen thousand hundred dollars for news coverage of DNA Precious Metals Inc. (OTCQB: DNAP) issued press releases by DNAP. FNMG HOLDS NO SHARES OF DNA Precious Metals Inc. (OTCQB: DNAP)

This release contains "forward-looking statements" within the meaning of Section 27A of the Securities Act of 1933, as amended, and Section 21E the Securities Exchange Act of 1934, as amended and such forward-looking statements are made pursuant to the safe harbor provisions of the Private Securities Litigation Reform Act of 1995. "Forward-looking statements" describe future expectations, plans, results, or strategies and are generally preceded by words such as "may", "future", "plan" or "planned", "will" or "should", "expected," "anticipates", "draft", "eventually" or "projected". You are cautioned that such statements are subject to a multitude of risks and uncertainties that could cause future circumstances, events, or results to differ materially from those projected in the forward-looking statements, including the risks that actual results may differ materially from those projected in the forward-looking statements as a result of various factors, and other risks identified in a company's annual report on Form 10-K or 10-KSB and other filings made by such company with the Securities and Exchange Commission. You should consider these factors in evaluating the forward-looking statements included herein, and not place undue reliance on such statements. The forward-looking statements in this release are made as of the date hereof and FNMG undertakes no obligation to update such statements.