Direct View Holdings, Inc. (OTCQB: DIRV) - July 1, 2014
DIRECTVIEW HOLDINGS, INC. ANNOUNCES STRATEGIC PARTNERSHIP WITH THE BREWER GROUP
Collaboration will promote greater visibility and market penetration for DirectView Holdings' comprehensive security and surveillance technologies
NEW YORK, NY- July 1, 2014 -DirectView Holdings, Inc. (OTCQB: DIRV), a company focused on the ownership and management of leading video and security technology companies, and The Brewer Group, Inc. (TBG), a diversified global investment advisory firm, today announced a new strategic business partnership agreement to maximize DirectView's brand and market awareness in an effort to increase sales and expand the company's global reach.

Through a variety of tailored business development strategies including exclusive access to its extensive network and established relationships spanning the globe, TBG will champion DirectView Holdings' visibility and its continued growth into the field of security and surveillance technologies, including promotion of DirectView's latest internet protocol monitoring options and a custom-encrypted video security streaming platform that will allow for different levels of monitoring privileges for various users.

The partnership between The Brewer Group and DirectView will bring the full power of TBG's extensive network including public and private corporations covering multiple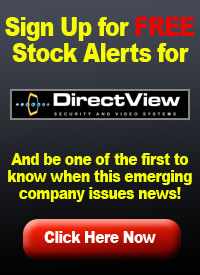 sectors, athletes, entertainers, key government and non-governmental officials and world leaders to bear, so that DirectView Holdings may further provide its products and services to high-profile clientele in the near future. As part of its advisory role, TBG will help add a division to the company that specifically focuses on this area while utilizing its extensive network to facilitate outreach efforts with synergetic companies, sales channels and partnering organizations as well as provide ongoing marketing support, secure product endorsements and global exposure for DirectView's comprehensive product line.

"DirectView Holdings' dedication toward staying on the cutting edge of security, surveillance and related solutions makes a partnership with their organization immediately appealing," The Brewer Group CEO, His Excellency Ambassador Jack Brewer, said of the new collaboration. "As we speak, DirectView is currently installing cameras in my home to provide assured safety and security for my family and our holdings, and I know their line of products has broad appeal for people like me. The Brewer Group is confident that it can assist DirectView Holdings in bringing innovative security products to high-profile clients worldwide, and we are very excited about our anticipated launch of the DirectView showroom in New York so we can continue spreading much-needed awareness of their state-of-the-art technologies."

Further commenting on the announcement, Roger Ralston, CEO and Chairman of DirectView, stated, "We believe that now is the perfect time for DirectView Holdings to form strong partnerships with organizations that can help broaden our appeal in the international community, and The Brewer Group's unique influence on the world stage presents a prime opportunity to do so as we move forward with this alliance."

About DirectView Holdings, Inc.

DirectView Holdings, Inc., together with its subsidiaries, provides teleconferencing and services to businesses and organizations. The company operates in two divisions, Security (Video Surveillance) and Video Conferencing. The Security division offers technologies in surveillance systems providing onsite and remote video and audio surveillance, digital video recording, and services. It also sells and installs surveillance systems; and sells maintenance agreements. The company sells its products and services in the United States and internationally through direct sales force, referrals, and its Websites. The Video Conferencing division offers teleconferencing products and services that enable clients to conduct remote meetings by linking participants in geographically dispersed locations. It is involved in the sale of conferencing services based upon usage, the sale and installation of video equipment, and the sale of maintenance agreements. This division primarily provides conferencing products and services to numerous organizations ranging from law firms, banks, high tech companies and government organizations. For more information visit our websites at www.DirectView.com.


About The Brewer Group, Inc.

Established in 2005, The Brewer Group ("TBG") is a multi-faceted global investment advisory firm focused on providing tailored services including investment banking advisory, asset management, specialty finance and business development for public and private companies as well as high-profile clientele including athletes, entertainers and world leaders. TBG specializes in multiple sectors including: financial services; biotechnology & healthcare; sports; media & entertainment; wearable technology & consumer products; sustainable technology & agriculture; education & cultural exchange; and hospitality. The Brewer Group's relationships with high-profile clientele and affiliates including United Nations representatives, global organizations, distribution outlets, governments, key government and non-governmental officials, NPOs, agencies and unions as well as with various public and private corporations and international organizations place TBG in a unique position to execute a wide range of services around the globe. Additionally, The Brewer Group operates a 501(c)(3) non-profit organization, The Jack Brewer Foundation (JBF Worldwide), which uses its various programs and global initiatives to offer educational opportunities and economic development to underprivileged individuals around the world and its Chief Executive Officer, Jack Brewer, also serves as an Ambassador for Peace and Sport for the US Federation of Middle East Peace (USFMEP) at the United Nations. For further information, please visit www.TheBrewerGroup.com.

Forward Looking Statements
This press release contains forward-looking statements that involve a number of risks and uncertainties, including statements regarding the outlook of the Company's business and results of operations. By nature, these risks and uncertainties could cause actual results to differ materially from those indicated. Generally speaking, any statements using terms such as "will," "expect," "anticipate," or "may," or which otherwise predict or address future results or events, are likely to contain forward-looking statements. It is important to note that actual results may differ materially from what is indicated in any forward-looking statement. Readers should consider any forward-looking statements in light of factors that could cause actual results to vary. These factors are described in our filings with the SEC, and readers should refer to those filings, including Risk Factors described in those filings, in connection with any forward-looking statements. The Company disclaims any intention or obligation to update or revise any forward-looking statements, whether as a result of new information, future events or otherwise..

Contact:

DirectView Holdings, Inc.
Roger Ralston
+1-212-567-1800 EXT. 111
www.DirectView.com
IR@DirectViewInc.com

SOURCE: DirectView Holdings, Inc.
---
Disclaimer
FN Media Group LLC (FNMG) owns and operates FinancialNewsMedia.com (FNM) which iis a third party publisher and news dissemination service provider, which disseminates electronic information through multiple online media channels. FNMG is NOT affiliated in any manner with any company mentioned herein. FNMG and its affiliated companies are a news dissemination solutions provider and are NOT a registered broker/dealer/analyst/adviser, holds no investment licenses and may NOT sell, offer to sell or offer to buy any security. FNMG's market updates, news alerts and corporate profiles are NOT a solicitation or recommendation to buy, sell or hold securities. The material in this release is intended to be strictly informational and is NEVER to be construed or interpreted as research material. All readers are strongly urged to perform research and due diligence on their own and consult a licensed financial professional before considering any level of investing in stocks. All material included herein is republished content and details which were previously disseminated by the companies mentioned in this release. FNMG is not liable for any investment decisions by its readers or subscribers. Investors are cautioned that they may lose all or a portion of their investment when investing in stocks. For current services performed FNMG was compensated three thousand five hundred dollars for Direct View Holdings, Inc. news coverage by the company. FNMG HOLDS NO SHARES OF Direct View Holdings, Inc.

This release contains "forward-looking statements" within the meaning of Section 27A of the Securities Act of 1933, as amended, and Section 21E the Securities Exchange Act of 1934, as amended and such forward-looking statements are made pursuant to the safe harbor provisions of the Private Securities Litigation Reform Act of 1995. "Forward-looking statements" describe future expectations, plans, results, or strategies and are generally preceded by words such as "may", "future", "plan" or "planned", "will" or "should", "expected," "anticipates", "draft", "eventually" or "projected". You are cautioned that such statements are subject to a multitude of risks and uncertainties that could cause future circumstances, events, or results to differ materially from those projected in the forward-looking statements, including the risks that actual results may differ materially from those projected in the forward-looking statements as a result of various factors, and other risks identified in a company's annual report on Form 10-K or 10-KSB and other filings made by such company with the Securities and Exchange Commission. You should consider these factors in evaluating the forward-looking statements included herein, and not place undue reliance on such statements. The forward-looking statements in this release are made as of the date hereof and FNMG undertakes no obligation to update such statements.