Direct View Holdings, Inc. (OTCQB: DIRV) - July 21, 2015

DirectView CEO Outlines Importance Of Securing Strategic Relationship For Integrating Body-Camera Technology With America's Largest 4G LTE Network


Company Will Have A Key Marketing Advantage As Its Industry Leading Technology Will Be Marketed To The Carriers' Customers Via Their Worldwide Distribution Channels

NEW YORK, NY- July 21, 2015 -DirectView Holdings, Inc. (OTC: DIRV), ("DirectView" or the "Company"), which had previously announced on July 15, that it had initiated its plan to work with one of the world's leading mobile carriers to integrate its industry leading Body-Worn and Security cameras to the carrier's 4G LTE network, the largest in the nation, today shared more details about the advantages the deal would bring to the Company.

In a statement released today, Roger Ralston, CEO and Board Chairman of DirectView, said:
"Look, we have five key components in this deal that can separate us from the field.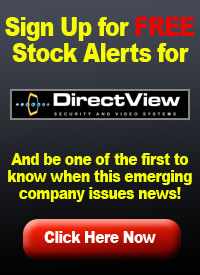 (1) First of all, we believe we have a superior technology. We feel we have the best cameras on the market;
(2) Second, through the carrier we will have the ability to wirelessly connect our products to the net even where no signal is usually available;
(3) Third, it's all delivered via a dedicated network that is always available and highly secure;
(4) All data captured will be safely and securely stored in our cost-efficient backend DirectView dedicated storage servers; and
(5) Distribution via the carrier's extensive worldwide reach.

As we mentioned in the earlier press release, having real time situational awareness through body cameras will change the paradigm for law enforcement, government and corporate/private end users. Utilizing the carrier's network connection integrated with xMax private mobile broadband technology (see our Press Release of June 16, 2015; xG Technology, Inc. (Nasdaq: XGTI, XGTIW) that enables secure, robust mobile broadband communications, businesses, security and law enforcement personnel using a DirectView device will be able to easily transfer from networked communications to 4G LTE cellular transmissions in areas where secure networks are unavailable. And have their data safely and securely preserved as well!

Because of our secure dedicated network which is what xMax delivers…and our affiliation with the carrier… we are able to have our Body-Worn and Security cameras wirelessly connect to our proprietary & cost-efficient backend storage, from almost anywhere.

… And via this deal, by way of the carrier's employees and sales partners, we will have access to the carrier's existing customers and its worldwide distribution channels. Our product package may very well be being sold via the carrier's employees in their stores, on their websites, alongside their proprietary products… wherever they are being marketed.

All in all, it's a great marriage of cutting edge technology and access to a deep and established marketing pool of potential clients of a world leader in mobile accessibility.

About DirectView Holdings, Inc.

About DirectView Holdings, Inc.
DirectView Holdings, Inc., together with its subsidiaries, provides video surveillance solutions and teleconferencing products and services to businesses and organizations. The company operates in two divisions, Security (Video Surveillance) and Video Conferencing. The Security division offers technologies in surveillance systems providing onsite and remote video and audio surveillance, digital video recording, and services. It also sells and installs surveillance systems; and sells maintenance agreements. The company sells its products and services in the United States and internationally through direct sales force, referrals, and its Websites. The Video Conferencing division offers teleconferencing products and services that enable clients to conduct remote meetings by linking participants in geographically dispersed locations. It is involved in the sale of conferencing services based upon usage, the sale and installation of video equipment, and the sale of maintenance agreements. This division primarily provides conferencing products and services to numerous organizations ranging from law firms, banks, high tech companies and government organizations. For more information visit our website at www.DirectView.com and connect with us on Twitter, LinkedIn, Facebook, and Google+.

Forward Looking Statements: This press release contains forward-looking statements that involve a number of risks and uncertainties, including statements regarding the outlook of the Company's business and results of operations. By nature, these risks and uncertainties could cause actual results to differ materially from those indicated. Generally speaking, any statements using terms such as "will," "expect," "anticipate," or "may," or which otherwise predict or address future results or events, are likely to contain forward-looking statements. It is important to note that actual results may differ materially from what is indicated in any forward-looking statement. Readers should consider any forward-looking statements in light of factors that could cause actual results to vary. These factors are described in our filings with the SEC, and readers should refer to those filings, including Risk Factors described in those filings, in connection with any forward-looking statements. The Company disclaims any intention or obligation to update or revise any forward-looking statements, whether as a result of new information, future events or otherwise.

Contact:
DirectView Holdings, Inc.
Roger Ralston
+1-212-858-9100 EXT. 111
www.DirectView.com
IR@DirectView.com

SOURCE: DirectView Holdings, Inc.
---
Disclaimer
FN Media Group LLC (FNMG) owns and operates FinancialNewsMedia.com (FNM) which iis a third party publisher and news dissemination service provider, which disseminates electronic information through multiple online media channels. FNMG is NOT affiliated in any manner with any company mentioned herein. FNMG and its affiliated companies are a news dissemination solutions provider and are NOT a registered broker/dealer/analyst/adviser, holds no investment licenses and may NOT sell, offer to sell or offer to buy any security. FNMG's market updates, news alerts and corporate profiles are NOT a solicitation or recommendation to buy, sell or hold securities. The material in this release is intended to be strictly informational and is NEVER to be construed or interpreted as research material. All readers are strongly urged to perform research and due diligence on their own and consult a licensed financial professional before considering any level of investing in stocks. All material included herein is republished content and details which were previously disseminated by the companies mentioned in this release. FNMG is not liable for any investment decisions by its readers or subscribers. Investors are cautioned that they may lose all or a portion of their investment when investing in stocks. For current services performed FNMG was compensated three thousand dollars for Direct View Holdings, Inc. news coverage by the company. FNMG HOLDS NO SHARES OF Direct View Holdings, Inc.

This release contains "forward-looking statements" within the meaning of Section 27A of the Securities Act of 1933, as amended, and Section 21E the Securities Exchange Act of 1934, as amended and such forward-looking statements are made pursuant to the safe harbor provisions of the Private Securities Litigation Reform Act of 1995. "Forward-looking statements" describe future expectations, plans, results, or strategies and are generally preceded by words such as "may", "future", "plan" or "planned", "will" or "should", "expected," "anticipates", "draft", "eventually" or "projected". You are cautioned that such statements are subject to a multitude of risks and uncertainties that could cause future circumstances, events, or results to differ materially from those projected in the forward-looking statements, including the risks that actual results may differ materially from those projected in the forward-looking statements as a result of various factors, and other risks identified in a company's annual report on Form 10-K or 10-KSB and other filings made by such company with the Securities and Exchange Commission. You should consider these factors in evaluating the forward-looking statements included herein, and not place undue reliance on such statements. The forward-looking statements in this release are made as of the date hereof and FNMG undertakes no obligation to update such statements.