Direct View Holdings, Inc. (OTCQB: DIRV) - June 24, 2015

DirectView Selected to Install a Comprehensive Security and Surveillance System for a Newly Constructed Colorado Marijuana Infused Product Facility


NEW YORK, NY- June 24, 2015 -DirectView Holdings, Inc. (OTCQB: DIRV), ("DirectView" or the "Company"), a company focused on ownership and management of leading video and security technology companies, today announced that it has been selected by Good Life, Colorado LLC. to complete a comprehensive security and surveillance installation at a newly constructed Colorado Marijuana Infused Product ("MIP") facility.

The selection comes as a direct result of the Company's strategic partnership agreement with Cannamor, LLC ("Cannamor") (www.cannamor.com), a privately held Colorado based consulting company focused on legal cannabis growing and dispensing projects. The full installation is expected to be completed early in the third quarter and will include the DirectView IP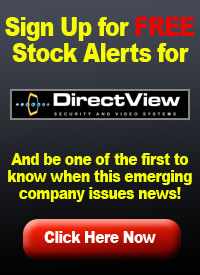 megapixel security cameras, DirectView's NVR video and audio storage server as well as a comprehensive intrusion alarm system.

Patrick O'Mally, President of Good Life, Colorado LLC said, "It was very important for us to choose the best provider for the security needs of our state the art MIP facility. DirectView has a proven track record here in the Colorado market and came highly recommended. They have been able to help in the planning and design of our required security; as well as providing assistance through the permitting stage, which was invaluable. We have been more than impressed with them from the beginning and are very happy with our decision to choose DirectView. We look forward to using them for years to come as we grow our business. "
Matt Moore, President of Cannamor commented, "We are very pleased to have established another job win as part of our strategic relationship with DirectView to provide for the extensive security needs of our rapidly growing client list. We look forward to having them handle the security needs of all of our current and future clients as we continue to grow our cannabis facility consulting business. Cannamor is expanding our services outside of the Colorado market and we are happy to have DirectView as part of our services team as we build for the future."

Roger Ralston, CEO and Chairman of DirectView, stated, "We are excited to expand our relationship with Cannamor in this important business vertical by providing complex security system solutions for its growing customer base. The cannabis industry is a rapidly growing business opportunity for DirectView and we intend to continue to build our footprint in Colorado and other geographic regions in the U.S. We look forward to working with Cannamor as its exclusive security provider on their clients' locations for years to come."
About Cannamor, Inc.
Cannamor is the go-to specialist for acquiring, building and growing cannabis businesses. Cannamore has developed both indoor and outdoor grow facilities with energy consumption and efficiency in mind. The Company was founded in Denver Colorado by two construction industry professionals with a mission to become the trusted resources for design and construction plans to meet the unique needs of the cannabis industry. With projects across Denver, Boston and more, Cannamor continues to make its mark in the growing cannabis industry. For more information visit www.cannamor.com.

About DirectView Holdings, Inc.
DirectView Holdings, Inc., together with its subsidiaries, provides video surveillance solutions and teleconferencing products and services to businesses and organizations. The company operates in two divisions, Security (Video Surveillance) and Video Conferencing. The Security division offers technologies in surveillance systems providing onsite and remote video and audio surveillance, digital video recording, and services. It also sells and installs surveillance systems; and sells maintenance agreements. The company sells its products and services in the United States and internationally through direct sales force, referrals, and its Websites. The Video Conferencing division offers teleconferencing products and services that enable clients to conduct remote meetings by linking participants in geographically dispersed locations. It is involved in the sale of conferencing services based upon usage, the sale and installation of video equipment, and the sale of maintenance agreements. This division primarily provides conferencing products and services to numerous organizations ranging from law firms, banks, high tech companies and government organizations. For more information visit our website at www.DirectView.com and connect with us on Twitter, LinkedIn, Facebook, and Google+.

Forward Looking Statements: This press release contains forward-looking statements that involve a number of risks and uncertainties, including statements regarding the outlook of the Company's business and results of operations. By nature, these risks and uncertainties could cause actual results to differ materially from those indicated. Generally speaking, any statements using terms such as "will," "expect," "anticipate," or "may," or which otherwise predict or address future results or events, are likely to contain forward-looking statements. It is important to note that actual results may differ materially from what is indicated in any forward-looking statement. Readers should consider any forward-looking statements in light of factors that could cause actual results to vary. These factors are described in our filings with the SEC, and readers should refer to those filings, including Risk Factors described in those filings, in connection with any forward-looking statements. The Company disclaims any intention or obligation to update or revise any forward-looking statements, whether as a result of new information, future events or otherwise.

Contact:
DirectView Holdings, Inc.
Roger Ralston
+1-212-858-9100 EXT. 111
www.DirectView.com
IR@DirectView.com

SOURCE: DirectView Holdings, Inc.
---
Disclaimer
FN Media Group LLC (FNMG) owns and operates FinancialNewsMedia.com (FNM) which iis a third party publisher and news dissemination service provider, which disseminates electronic information through multiple online media channels. FNMG is NOT affiliated in any manner with any company mentioned herein. FNMG and its affiliated companies are a news dissemination solutions provider and are NOT a registered broker/dealer/analyst/adviser, holds no investment licenses and may NOT sell, offer to sell or offer to buy any security. FNMG's market updates, news alerts and corporate profiles are NOT a solicitation or recommendation to buy, sell or hold securities. The material in this release is intended to be strictly informational and is NEVER to be construed or interpreted as research material. All readers are strongly urged to perform research and due diligence on their own and consult a licensed financial professional before considering any level of investing in stocks. All material included herein is republished content and details which were previously disseminated by the companies mentioned in this release. FNMG is not liable for any investment decisions by its readers or subscribers. Investors are cautioned that they may lose all or a portion of their investment when investing in stocks. For current services performed FNMG was compensated three thousand dollars for Direct View Holdings, Inc. news coverage by the company. FNMG HOLDS NO SHARES OF Direct View Holdings, Inc.

This release contains "forward-looking statements" within the meaning of Section 27A of the Securities Act of 1933, as amended, and Section 21E the Securities Exchange Act of 1934, as amended and such forward-looking statements are made pursuant to the safe harbor provisions of the Private Securities Litigation Reform Act of 1995. "Forward-looking statements" describe future expectations, plans, results, or strategies and are generally preceded by words such as "may", "future", "plan" or "planned", "will" or "should", "expected," "anticipates", "draft", "eventually" or "projected". You are cautioned that such statements are subject to a multitude of risks and uncertainties that could cause future circumstances, events, or results to differ materially from those projected in the forward-looking statements, including the risks that actual results may differ materially from those projected in the forward-looking statements as a result of various factors, and other risks identified in a company's annual report on Form 10-K or 10-KSB and other filings made by such company with the Securities and Exchange Commission. You should consider these factors in evaluating the forward-looking statements included herein, and not place undue reliance on such statements. The forward-looking statements in this release are made as of the date hereof and FNMG undertakes no obligation to update such statements.